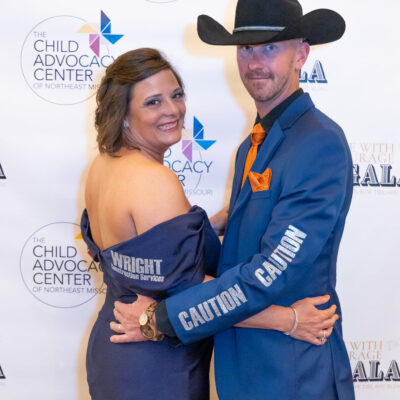 Wright Construction sponsored the "Honorary Chairpersons" for the Child Advocacy Center of Northeast, Missouri, on April 30, 2022, at their "One with Courage Gala". The Honorary Chairpersons sported a Wright Construction custom maid beautifully appointed gown and coordinating suit while engaging with participants.
"The Child Advocacy Center of Northeast Missouri responds to child abuse through a supportive team approach to reduce trauma to children and their non-offending family members. The primary goal of The Child Advocacy Center is to ensure that children disclosing abuse are not further victimized by the intervention systems designed to protect them. Services offered include forensic interviews, children and family advocacy, mental health therapy, and school and community-based prevention education programs. The Child Advocacy Center is a child-focused place where a comprehensive, coordinated approach is taken in response to allegations of child sexual and physical abuse occurring in our 14-county service area."
No child of any age should experience anything but love, support, and safety; their mission and continued work with children and their families during horrific acts pushes our company to actively and continually support the Center's work.